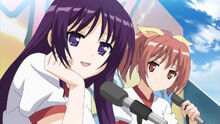 A long hair beauty and student of Umenomori Gakuen who is two years senior to Takumi and friends. She belongs to Kei-On-Bu, which has only 3 members. She is on very good terms with Kanae, and is also part of the Spats (which refers to a type of athletic tights in Japan) faction led by Fumino in volume 2 of the series. After her love confession to Daigorō on Valentine's Day in her final semester, she became engaged to him. Subsequently, she calls Daigorō Dai-chan, and acts lovey dovey over him, often joining the Stray Cats Associates Club meeting in their clubroom and feeding Daigorō food.
Ad blocker interference detected!
Wikia is a free-to-use site that makes money from advertising. We have a modified experience for viewers using ad blockers

Wikia is not accessible if you've made further modifications. Remove the custom ad blocker rule(s) and the page will load as expected.